F.O.G. = Floats Off Grass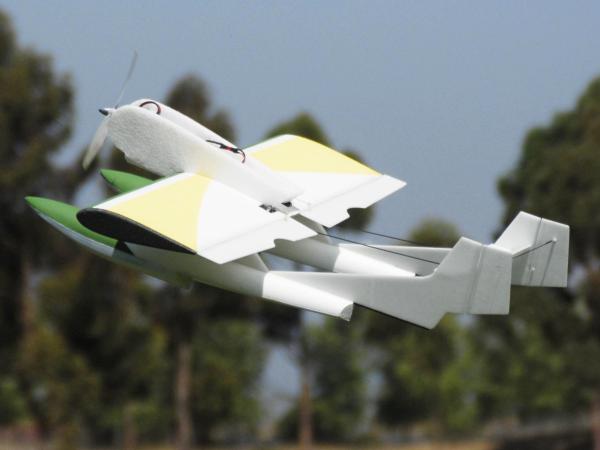 Pete Johnson shot this great inflight for me
Inspired by the Baylands Battle Of The Bay in which we flew Slow Sticks fitted with GWS floats. It was such fun that I wanted to design a plane that incorporates the floats as the fuselage, with the idea that it should be possible to not only take off and land, but fly well too. Most don't.

Enter the FOG. (Okay, this is Rev 2. Rev 1 had the wing too low and it snagged in the grass. The travails of the TLAR plane designer. Fortunately, there are no known photos or records).

I really surprised myself this time. Though it's harder than bejeezus to hover, it does great knife edge and inverted -- very little coupling. Excellent axial rolls. But the cream? Outside tumble stunts are simply amazing. It can waterfall or knifespin in place with just about no help from the pilot at all. Looks kinda neat too!

Of course the first thing that comes up is "Ever fly it off water?" No. It's a FOG ferchrissake!
.
Copyright 2007 by David Mark North